Cayenne Pepper, Capiscum, Capsic, Capsic., Capsicum, Caps.
HPUS
indication of Capsicum Annuum:
Fever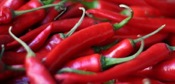 Have you ever used Capsicum Annuum? Yes No


< < Capsicum Annuum- main page

Below are the main rubriks (i.e strongest indications or symptoms) of Capsicum Annuum in traditional homeopathic usage, not approved by the FDA.
FEVER AND CHILL
Stages and states
Light hair, blue eyes.
Nervous, but full habit.
Phlegmatic awkward, easily offended; indolent, melancholic; lack of reaction.
Lazy, fat, unclean, dreads the open air.
Children who are always chilly, refractory, clumsy.
Less frequently indicated in persons of tense fibre.
Hemorrhoidal constitutions.
Gouty.
≡ more ...