Cayenne Pepper, Capiscum, Capsic, Capsic., Capsicum, Caps.
HPUS
indication of Capsicum Annuum:
Fever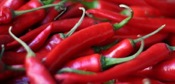 Have you ever used Capsicum Annuum? Yes No


< < Capsicum Annuum- main page

Below are the main rubriks (i.e strongest indications or symptoms) of Capsicum Annuum in traditional homeopathic usage, not approved by the FDA.
FEVER AND CHILL
Fever
Febrile shivering and cold over the whole body, with ill-humour increasing with the cold, or else with anxiety, dizziness and dulness of the head.
Shivering, commencing at the back; between shoulders.
Cold and shivering whenever drink is taken.
Fever with predominance of cold, and with thirst, burning heat, and affections of the mucous membranes.
Shiverings, with much thirst, afterwards heat, (without or) with thirst and perspiration.
On the upper part of the legs cold perspiration.
≡ more ...