Cayenne Pepper, Capiscum, Capsic, Capsic., Capsicum, Caps.
HPUS
indication of Capsicum Annuum:
Fever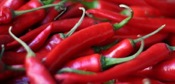 Have you ever used Capsicum Annuum? Yes No


< < Capsicum Annuum- main page

Below are the main rubriks (i.e strongest indications or symptoms) of Capsicum Annuum in traditional homeopathic usage, not approved by the FDA.
FACE
Face
The cheeks are red and hot, and this alternates with paleness. Red dots on the face. Pains in the face like bone pains, from external touch. Pains are worse from touch. Pain in the zygoma, or the zygoma is sensitive. Sensitive to pressure over the mastoid. Swelling in the region of the mastoid.
≡ more ...