Cayenne Pepper, Capiscum, Capsic, Capsic., Capsicum, Caps.
HPUS
indication of Capsicum Annuum:
Fever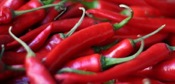 Have you ever used Capsicum Annuum? Yes No


< < Capsicum Annuum- main page

Below are the main rubriks (i.e strongest indications or symptoms) of Capsicum Annuum in traditional homeopathic usage, not approved by the FDA.
EYES
Eyes
The eyes protrude from the head, with paleness of the face (after sixteen hours),
Inflammation of the eyes,
Painful twitching beneath the right eyelid (after half an hour),
Pressure on the eyes, so that he was unable to open them sufficiently wide,
A pressive pain in the eye, as from a foreign body,
A burning in the eyes, which become red and watery, in the morning,
Pupil.
Fine stinging pain in the eyes (from the dust),
Much dilated pupils,
Great dilatation of the pupils,
Vision
Dim vision in the morning, as if a foreign body floated over the cornea and obscured it, so that one saw clearly again for a moment on rubbing the eye,
All objects seem black,
Visual power almost lost, like blindness,
≡ more ...