Cayenne Pepper, Capiscum, Capsic, Capsic., Capsicum, Caps.
HPUS
indication of Capsicum Annuum:
Fever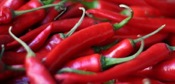 Have you ever used Capsicum Annuum? Yes No


< < Capsicum Annuum- main page

Below are the main rubriks (i.e strongest indications or symptoms) of Capsicum Annuum in traditional homeopathic usage, not approved by the FDA.
EYES
Eyes
Pressure in the eyes, as if from a foreign body introduced into them.
Inflammation of the eyes, with redness, burning pain, and lachrymation.
Eyes prominent.
Confusion of sight, esp. in the morning, as if something were swimming on the cornea, mitigated for an instant by rubbing.
Objects appear black when brought before the eyes.
Sight entirely extinct, as if from amaurosis.
≡ more ...