Cayenne Pepper, Capiscum, Capsic, Capsic., Capsicum, Caps.
HPUS
indication of Capsicum Annuum:
Fever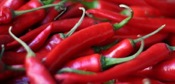 Have you ever used Capsicum Annuum? Yes No


< < Capsicum Annuum- main page

Below are the main rubriks (i.e strongest indications or symptoms) of Capsicum Annuum in traditional homeopathic usage, not approved by the FDA.
ABDOMEN
Abdomen
Dysentery. After stool, tenesmus and thirst, and drinking causes shuddering. Smarting and burning in anus and rectum. Violent tenesmus in rectum, and bladder at the same time. Haemorrhoids; protruding, smarting, burning; smarting like pepper; they sting and burn as if pepper had been sprinkled on them.
≡ more ...