Cayenne Pepper, Capiscum, Capsic, Capsic., Capsicum, Caps.
HPUS
indication of Capsicum Annuum:
Fever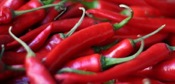 Have you ever used Capsicum Annuum? Yes No


< < Capsicum Annuum- main page

Below are the main rubriks (i.e strongest indications or symptoms) of Capsicum Annuum in traditional homeopathic usage, not approved by the FDA.
ABDOMEN
Abdomen
Colic around umbilicus with mucous stools, sometimes streaked with blood; every stool is followed by thirst and every drink by shuddering; must go to stool immediately after drinking, passing nothing but mucus.
Burning pains in belly.
Cutting in bowels, as from wind; before stool.
Sore pains in the abdomen and loins.
Hard pushing or sticking sensation in a small spot in the left iliac region.
Abdomen distended; suffocative arrest of breathing or painful pressure in lower part of back.
Hypochondria
"Catching pain" in the region of the liver, or in lower portion of the right lung, with each cough.
Spleen sensitive, swollen; especially after quinine.
Stomach
Accumulation of mucus and acids in stomach.
Stomach icy-cold, afterward sensation of trembling or burning in stomach, with occasional pungent eructations.
Deranged stomach, with fever.
Sensitiveness and aching in the region of stomach and duodenum after the colic.
≡ more ...