Cayenne Pepper, Capiscum, Capsic, Capsic., Capsicum, Caps.
HPUS
indication of Capsicum Annuum:
Fever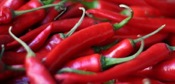 Have you ever used Capsicum Annuum? Yes No


< < Capsicum Annuum- main page

Below are the main rubriks (i.e strongest indications or symptoms) of Capsicum Annuum in traditional homeopathic usage, not approved by the FDA.
ABDOMEN
Abdomen
Abdomen inflated, almost to bursting, with pressive tension, and suspension of respiration.
Painless rumbling in the abdomen.
Colic about umbilicus, with mucous stools.
Draggings and movements in the abdomen.
Strong pulsations in the abdomen.
Flatulent colic.
Protrusion, flatulent hernia in the inguinal ring.
Appetite
Aqueous and insipid taste.
Sour taste in the mouth, and also a taste of broth.
Want of appetite.
Pyrosis.
Eating
Burning pain in the stomach, and in the epigastrium, esp. just after a meal.
Unnaturally increased appetite, alternated with aversion to food.
Nausea
Nausea, felt generally in the epigastrium, with pressure on the part.
Vomiting
Desire for coffee, with inclination to vomit before or after taking it.
Stomach
Pain in the stomach, which is inflated.
Sensation of cold in the stomach.
Shootings in the epigastrium, on breathing rapidly and deeply, on speaking, and on the part being touched.
≡ more ...