Common Garden Asparagus, Asparagus Off, Asparagus, Aspar.
HPUS
indication of Asparagus Officinalis:
Head cold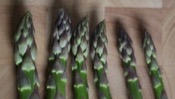 Below are the main rubriks (i.e strongest indications or symptoms) of Asparagus Officinalis in traditional homeopathic usage, not approved by the FDA.


Please see our remedy relationship tool to view relationships across more than two remedies

< < Asparagus Officinalis- main page
RELATIONSHIPS
Compare
Compare: Althaea Officinalis Althaea - Althaea Officinalis Marshmallow - (contains asparagine; irritable bladder, throat and bronchi.) Physalis Alkekengi Physalis Alkekengi. Digitalis Purpurea Digital.; Sarsaparilla Sarsap.; Spigelia Anthelmia Spigelia
Compare Convallaria Majalis Conval. maj., Sarsaparilla Sarsap., Arnica Arn., Aurum Muriaticum Aur. mur., Cannab., Digitalis Purpurea Digit., Spigel.
Complementary
Drosera Rotundifolia Dros., Calc Carb Calc. Sulphur Sul.
Antidotes
Antidote: Aconite Acon.; Apis Mel Apis.
Antidoted by Aconite Acon. (prostration, feeble pulse, pain in shoulder); Apis Mel Apis,
Antidote to Coffea Tosta Coffea.