Pulsatilla, Pulsatila, Pratensis, Wind Flower, Pulsat, Pasque Flower
HPUS label indication: Weeping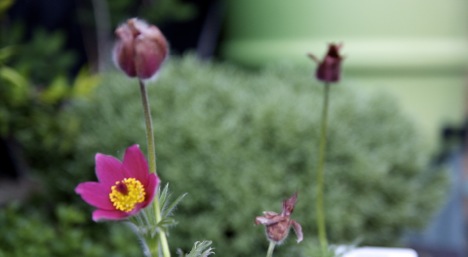 Homeopathic remedies are prescribed on the basis that in a tiny dilution like cures like, so while the very dilute homeopathic remedy may help, the raw product is often best avoided.
Below are the strongest indications of Pulsatilla in traditional homeopathic usage, not reviewed by the FDA.
STOOL
Stool
Rumbling, watery; worse, night
No two stools alike
After fruit ( Ars.; CHIN.) Blind hemorrhoid, with itching and sticking pains
Dysentery; mucus and blood, with chilliness ( Merc.; Rheum.) Two or three normal stools daily.
Strong and sharp (acrid), corrosive, wearing away skin
Bilious
Bloody
Bloody; in streaks
Changeable
Chopped food; eggs
Curdled
Dry
Flat
Forcible, sudden, gushing
Frequent
Green
Hard
Hot
Large
Long, narrow (see small)
Mucous, slimy
Mucous, slimy; bloody
Mucous, slimy; green
Mucous, slimy; white
Mucous, slimy; yellow
Odour; offensive
Containing pus
Scanty
Shooting out
Small (see long and narrow)
Soft
Thin, liquid; pouring out
Watery
Watery; night
Watery; green
Watery; yellow
White
Yellow
Yellow; greenish
Yellow; whitish
≡ more ...
Sources
Uses are based on traditional homeopathic practice and have not been reviewed by the FDA.